WJJQ's Nascar Challenge Contest

CLICK HERE
for the 2017 rules and schedules. Also, be listening to Northwoods 92-5 FM for contest schedules and additional details. It's your chance to win a weekly or monthly prize.
Lincoln County Sheriff's Office
Published on 08/22/2017 under News A 29 year old Tomahawk man was arrested following a suspicious person investigation at a business in the Town of Merrill Friday afternoon. Upon arrival, Deputies noted the man showed signs of impairment. He was eventually taken into custody for a 4th offense OWI, obstructing an officer and 4 counts of bail jumping. A 22 year old Merrill man was taken into custody after his vehicle left the roadway late Friday. The deputy investigated that incident at around 10pm on Highway JJ. The driver displayed signs of intoxication and was eventually cited for a first offense of operating a motor vehicle while intoxicated. A 53 year old Tomahawk man was arrested early Saturday morning. The deputy initially stopped the driver along State Rd. 86 at just after 1am for a failure to turn on his headlights. The man was eventually cited for a 3rd offense operating while intoxicated. A 36 year old Gleason man was arrested Sunday afternoon after deputies responded to a disturbance in the Town of Schley. At just past 4pm, a caller reported an intoxicated man was causing issues at the residence. The suspect was arrested on misdemeanor charges of disorderly conduct, criminal damage to property and bail jumping. After a brief drop during the summer months, the Lincoln County Sheriff's Office is again cautioning motorists to be on the look out for deer. In their weekly report, they noted that the deer are becoming more active leading to the number of car deer crashes remaining high in recent weeks. They not that majority of the crashes are being reported in the early morning hours shortly after day break.
+ Read More
Powerball Jackpot Grows, Two Northwoods Tickets Miss by One Number
Published on 08/22/2017 under News The Powerball jackpot continues to grow with no weekend winner, but several large sum winning tickets were sold right here in the Northwoods this past weekend. According to the lottery association, there were three Wisconsin tickets that matched four of five numbers along with the Powerball in Saturday's drawing. Two were sold locally. One ticket was purchased at Krist Food Mart in Minocqua. Whoever holds that ticket won $50,000. A second northwoods ticket, purchased at the Antigo BP North, also chose the Power Play option raising their winning total to $200,000. Neither winner had come forward as of yesterday afternoon. The winners have 180 days to claim their prize. As for that jackpot, it grows to $650 million for Wednesday. Lottery director Cindy Polzin put that in a Wisconsin perspective noting that's enough to buy every Wisconsinite 25 bags of cheese curds while still having $3 million left over.
+ Read More
Tomahawk Police Report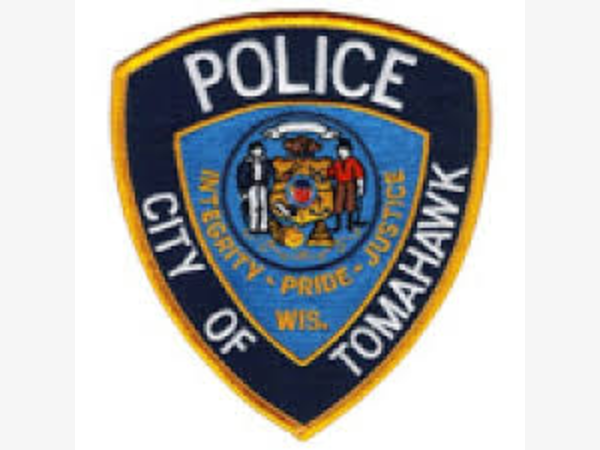 Published on 08/22/2017 under News Officers were contacted regarding damage caused at a motel room. They were able to reach the Neillsville woman believed responsible. After police contact, the two parties intended to work out the situation civilly. A South Tomahawk Avenue resident reported a bicycle taken from their property over the weekend. Officers were called to a residence for an altercation, with the initial report that an individual was struck in the face. After speaking with the parties involved, officers determined the incident was verbal. No further police action was taken and the officer provided one of the individuals a ride to another location for the evening. Two individuals reported that their vehicles had been scratched, each accusing the other. The officer observed the scratches and determined the first was not consistent with vandalism. The other individual then admitted to keying the second vehicle in retaliation. He was cited for criminal damage to property. During the investigation, the other individual was cited for possession of THC and drug paraphernalia.
+ Read More
Lincoln County Veteran's Office Benefits from 'Nolden Vet Bug' Donation
Published on 08/22/2017 under News Veterans in Lincoln County are benefiting from a unique fundraiser run by a couple in southeastern Wisconsin. As we briefly mentioned in last week's County Board recap, the supervisors accepted a donation from Maurice and Jackie Nolden. The couple raise money through the sale of their 'Nolden Vet Bugs.' As explained to the board by Lincoln County Service Officer Rick Wolf, the Prairie du Sac couple create these decorative statues out of watering devices reclaimed from old farms. The lawn decorations measure about a foot across (2' with the legs) and are painted to replicate bugs. The one Wolf had as a display was fashioned into a lady bug. The Nolden's sell their decorations with 100% of the proceeds going to Veteran Organizations across the state. Wolf explained that the pair had sold more than 4,000 bugs raising more than $100,000 overall. Last week's donation to the local Veteran's Service Office came in at $700.
+ Read More
Hatchet Football Team Loses Opener at Shiocton
Published on 08/21/2017 under Sports The Tomahawk Hatchet Football Team opened the season on Friday, with a 24-0 loss at Shiocton. The Chiefs led 16-0 at the half, and added a fourth quarter touchdown for the shutout victory. Tomahawk had 108 yards rushing and 42 yards passing and were outgained 319-150. Tomahawk will have their home opener on Friday night, hosting Rhinelander at Hatchet Field. The Fehrman Orthodontics Coaches Show is at 6:35 pm on Northwoods 92-5.
+ Read More
Tomahawk Cross Country Teams Host Alumni Scrimmage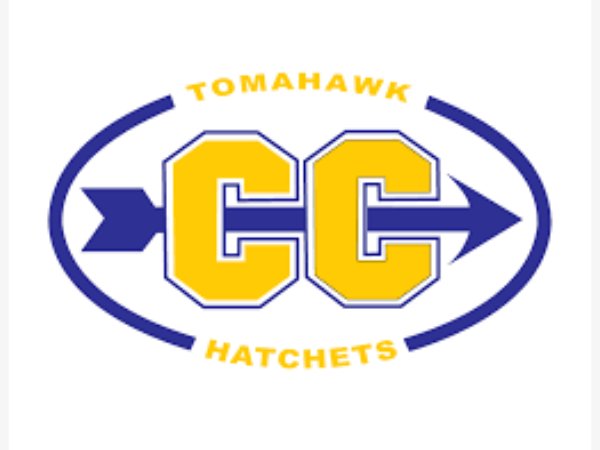 Published on 08/21/2017 under Sports On Saturday the Tomahawk Hatchet Cross-Country team hosted their 16th annual Alumni Scrimmage at Bradley Park. The 2017 Hatchets competed against former alumni and local TARA (Tomahawk Area Runners Association) members at of one of the Hatchets' first race sites in Bradley Park. The 5000 meter men's event was won by, Connor Ahrens (class of 2012) in a time of 18:23. Other men's alumni finishers were: Justin Lund ('00-3rd), Bill Turgeon ('86-11th), Cayton Scholz ('17-14th), Alex Johnson ('17-15th), Nathan Goehe ('17-21st), Josh Wick ('17-26th), Victor Ierulli (TARA-28th), Mark Gass (TARA-29th), and Roger Martens (TARA). The current Hatchets were able to offset the individual top alumni finishers as placed eight runners in the top ten, led by freshman Drew Bolder's runner-up 18:28 effort and junior Evan Ploeckelman's 4th place 18:55 5K placement. The next group of Hatchets were grouped tightly together with a near 1-minute split: Parker Johnson (5th), Keaton Jed (6th), Luke Olson (7th), Sam VonSchrader (8th), Trey Baalke (9th), and Matt Johnson (10th). This pack effort helped to inflate the "unofficial" alumni score to 44, while the locals finished "unofficially" with 24 points to claim their 8th victory in the past decade. The following Hatchets also paced the locals: Matt Bartz (12th), Anthony Ierulli (13th), Jacob Miller (16th), Shawn Dirkx (17th), Hunter Borchardt (18th), Hunter VanRyen (19th), Adam Hall (20th), Jared Leverance (22nd), Jerett Flynn (23rd), Cole Svacina (24th), Reed Zedler (25th), Jordan Tomaszewski (27th), Garron Albrent (30th) and Brandon Pankow (31st). The alumni women were led by middle level Hatchet coach Maria Harrington, she placed 2nd covering the 5K distance in 22:53. Other alumni finishers were: Amanda Koshak (4thclass of '12), Stephanie Welke (5th-'13), Heather Leverence (7th-'91), Joanne Lazore (11th-TARA), Emmy Larson (15th-'15), Susan Waye (16th-'16), rounded out the alumni finishers. The 2017 lady Hatchets placed six in the top ten on with sophomore Haley VoermansDean crossing the tape with a 1st place medalist effort of 22:09. Teammate Gillian Buckwalter finished 3rd in 24:48, then a "pack" of Hatchets crossed with Meagan Berg (6th), Autumn Peissig (8th), Morgan Waye (9th), and Arianna Schreiner (10th) to help the Hatchets sneak by the alumni by a close score of 27-29 keeping their streak of 11 straight victories intact. Rounding out the finishers for the Hatchets were: Lauren Bauman (12th), Jackie Wick (13th), Brittany Jashinsky (14th), Corinn Genelin (17th), and Keli Borem (18th). A brat fry near the finish line was enjoyed by all following the race. The Hatchets "open" the season on Thursday at the multi-team Ashland Invitational. Meet gets underway at 1:00 from Chequamegon Bay Golf Course on the west side of Ashland.
+ Read More
Hatchet Football Team Opens Season
Published on 08/18/2017 under Sports The Tomahawk Hatchet Football Team opens their 2017 season at Shiocton on Friday night, with the opening kickoff at 7:00 pm. Join WJJQ for the Fehrman Orthodontics Coaches Show at 6:35 pm on Northwoods 92-5.
+ Read More
Jeff in the Morning and Zach with the News
5:00 until 10:00AM

Phil at Mid-Days on Monday & Tuesday
Tim at Mid-days on Wednesday - Friday

Michael Late Afternoons and Evenings

Morning Forum 9:35AM Monday - Friday