Nascar Challenge Continues
The Big Q's Nascar Challenge contest continues, with a chance to win a $25.00 gift card from Outboards Bar & Grill weekly, $50 in Chamber Bucks as the monthly prize or a chance to win a large screen TV as the grand prize from Tomahawk Appliance and Home. All the contest information and entry available here: Nascar Challenge
Violent Incidents Reported at Lincoln Hills in Late September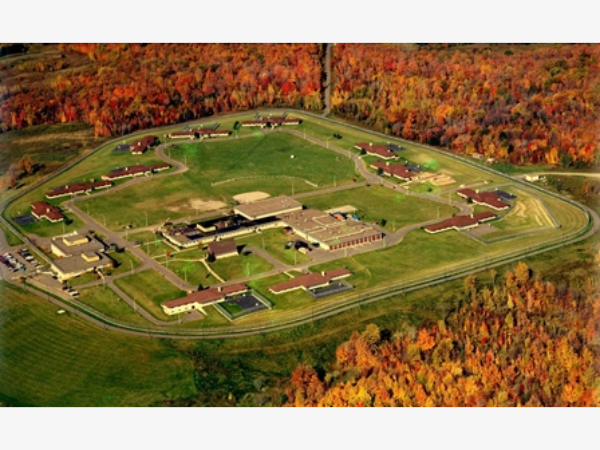 Published on 10/14/2019 under News MADISON, Wis. (AP) — The Wisconsin Department of Corrections has released details about a violent weekend at the state's juvenile prison in northern Wisconsin that left one guard with a broken nose. The state says 26 inmates were involved in a string of disturbances Sept. 28 and 29 at Lincoln Hills School for Boys. The Journal Sentinel says in one case a juvenile is facing charges for trying to choke a guard. Another guard had his nose broken and others suffered knee and shoulder injuries. On Sept. 29, a tactical unit from an adult prison was summoned to help keep order. The disturbances come just weeks after a court-ordered monitor toured the facility and said substantial improvements had been made. The prison has been the subject of multiple lawsuits.
+ Read More
Vietnam Vet Announces Run for 7th District Congressional Seat
Published on 10/14/2019 under News With three Republicans already announced, the first Democratic candidate has indicated he'll run for a vacant congressional seat in the Northwoods. Lawrence Dale threw his hat into the ring via a news release Monday morning. Dale, a businessman and Vietnam veteran, says he'll focus on bringing good paying jobs to the 7ths Congressional District, securing universal healthcare, protecting our natural resources, and fighting climate change. In the announcement he said, "I am running because this is a critical time in our nation's history. The policies of the Trump Administration are engendering our democracies and the principals upon which our country was founded." Another potential Democratic candidate, Wausau School Board President Tricia Zunker, was also expected to announce her intentions Monday. The 7th congressional seat became vacant last month when Rep. Sean Duffy resigned ahead of the birth of his daughter.
+ Read More
Republican Assembly Members Call in Governor to Schedule Special Election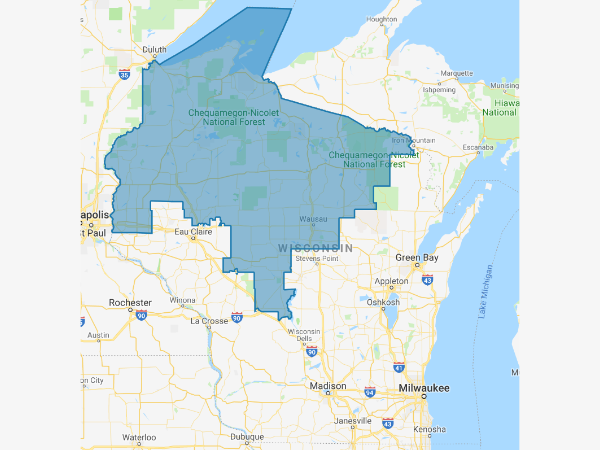 Published on 10/14/2019 under News As the field fills up, we still await a new date for the 7th congressional district special election. A group of 17 Republican Assembly members from Northern Wisconsin have called on Gov. Tony Evers to schedule the election immediately. Both Rob Swearingen and Mary Felzkowski have signed on to that letter. They said that the residents within the 7th Congressional district have now been without representation for two weeks, despite Gov. Evers initially saying that the election should be held as soon as possible.They noted that Gov. Evers has known about the vacancy since late August. Scheduling issues have included the first valid dates falling over the holiday season, as well as time constraints involving overseas military ballots. As of Monday, three Republicans and one Democrat have made official declarations with at least one other Democratic announcement expected today.
+ Read More
Local Energy Companies Help in Return of Peregrine Falcons
Published on 10/14/2019 under News From the brink of extinction, peregrine falcons have made an impressive comeback in Wisconsin, thanks in part to local power companies. While the birds remain on the endangered species list, falcon numbers are on the rise. According to a report prepared by falconer Greg Septon, nearly one quarter (22%) of peregrine falcon chicks hatched in the state over the past 25 years have come from nests located at Wisconsin Public Service and WE energies facilities. That amounts to 402 new peregrine falcon chicks coming from WPS and We Energies. When announcing the report, WPS says they support peregrine falcon recovery efforts as part of their commitment to environmental stewardship. Biologists say 50 years ago, breeding pairs of peregrine falcons did not exist in the eastern United States. This year 12 birds were hatched at WPS facilities alone, including 4 at the nesting box located in at the Weston Power plant. The report indicates the Weston site has been active since 2006 producing a total of 35 young chicks. Photo: Four Peregrine falcon chicks being banded in May. The birds were hatched at the WPS Power Plant in Weston.
+ Read More
Hatchet Cross Country Teams Win Hatchet Invite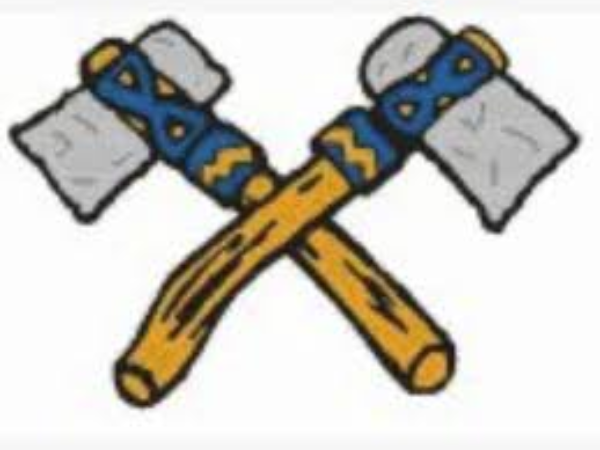 Published on 10/14/2019 under Sports Tomahawk hosted 12 teams for their annual Cross-Country Invitational at Edgewater late Saturday morning. The host Hatchets despite the cold, windy, and at times snowy conditions won three of four events at their invite and finished in the runner-up spot in the remaining race. The varsity boys were dominant in their win, while the girls upended 4th ranked Lakeland by the narrowest of margins. Nineteen Hatchet runners had either personal best times or seasonal best efforts at their respective distances in the less than ideal racing conditions. The lady Hatchets packed all of their scoring runners in the top eleven to offset the 1-3-5 finish by the TBirds en route to victory. Senior Haley Voermans-Dean, ran a solid last 1000 meters propelling herself to another career best time of 19:40 as she finished 2nd overall. Joining Haley on the podium were EmilyLacina (4th-20:11-PR), Kate Reilly (6th-20:31-PR), Macey Mann (10th-21:01), and Meagan Berg (11th-21:04). Freshmen Greta Tjugum (24th-22:08-SB) and Serena Reinke (31st-22:31-SB) also turned in seasonal best performances for the 5K distance. 70 runners competed in the varsity event. Currently,the ladies have defeated 118 teams, while only falling to 2 (Pct. .983) on the season. Team Scores were:Tomahawk-33, Lakeland-36, Mosinee-101, Chequamegon-138, Rhinelander-139, New London-144,Phillips-161, Wabeno-Laona-194, Crandon-257, Antigo-Inc, Nekoosa-Inc, Waupaca-Inc. Junior Noah Buckwalter had an outstanding last 400 meters and a solid finishing kick to outdistance thecompetition as he won his first individual invitational title in a career best time of 17:00. Drew Bolder(3rd-17:15), Trey Baalke (8th-17:47-PR), Arden Ziert (14th-18:06) joined Noah as medalists. Helping propel Tomahawk to the varsity title in the 70+ runner field were Garron Albrent (16th-18:10), Alex Norman(26th-18:26) and Jack Lacina (30th-18:43-PR). The win leaves the boys with a current regular season record of W-119 L-9 (Pct. .930) going into tournament play next weekend. Team scores were:Tomahawk-43, Lakeland-75, New London-119, Mosinee-125, Rhinelander-134, Waupaca-134, Chequamegon-154, Phillips-159, Wabeno-Laona-227, Nekoosa-251, Crandon-320, and Antigo-Inc. In the last race of the day the Junior Varsity girls wrapped up a solid meet for the Hatchets as they cruised to the JV team title by placing all their scoring athletes in the top 12. They were led by medalists Geena Wanta (4th-23:10-PR), Neenah Fuste (5th-23:11-PR), and Ava Dragosh (6th-23:17-PR). Rounding out the scoring for the girls were: Gillian Buckwalter (11th-24:04), Leslie Vance (12th-24:10), Autumn Peissig(26th-25:48), and Yumo Zhang (37th-28:24).In their runner-up finish the JV boys were led by medalists Keaton Jed (5th-18:35), Hunter Borchardt (6th- 18:47-PR), Ethan Liebnitz (9th-19:17-PR), and Brady Tjugum (10th-19:23-SB). Other JV Hatchet finishers were: Hunter VanRyen (11th-19:27), Jacob Towle (15th-19:39-PR), Matt Johnson (17th-19:47-SB), ReedZedler (18th-19:48-PR), Taje Casey (35th-21:15-SB), Henry Calhoun (46th-22:06), Trey Miller (47th-22:10-PR), and John Mark Hawley (56th-23:35). Next race is Saturday as the Hatchets travel to Antigo and Gartzke Flowage Bike and Ski Trails for the Great Northern Championships. The meet gets started at 11:00 a.m.
+ Read More
Hatchet Cross Country Teams Win the Athens Invite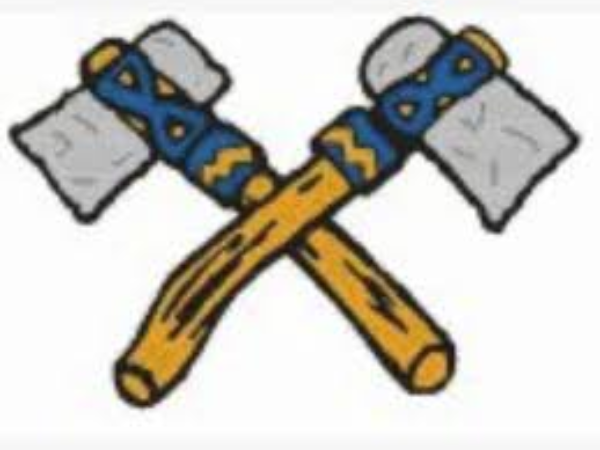 Published on 10/04/2019 under Sports Tomahawk made the trip to Erbach Park in Athens and competed in their annual 15-team Cross-Country Invitational. The 6th ranked lady Hatchets won their third consecutive invite, while the 10th ranked boys topped the field for the second straight week. The Tomahawk women were led by Haley Voermans-Dean as she won her second straight invitational title and raced to a career best time of 19:41 in the process. Hatchet teammates Emily Lacina (2nd-20:22-PR) and Kate Reilly (11th-21:02-PR) joined Haley on the awards stand with their medalist efforts. Meagan Berg (16th-21:36) and Macey Mann (19th-22:04) were the final scorers for the victorious Hatchets. Other finishers helping Tomahawk stay ahead of state-ranked Auburndale and Gillett were: Greta Tjugum (31st-22:34-PR), Serena Reinke (46th), Neenah Fuste (48th), Leslie Vance (55th-24:01-PR), Gillian Buckwalter (58th), Ava Dragosh (60th-24:25-PR), Tiana Gerstenberger (63rd), and Autumn Peissig (65th). 121 athletes toed the line for the girls 5K race. With the late addition of state-ranked Gillett to the field, the varsity boys had to step it up a notch to top the field for their team title. The 1-2 combination of Drew Bolder (4th-17:16) and Noah Buckwalter (5th-17:19) along with teammate medalists Trey Baalke (13th-18:05) and Garron Albrent (14th-18:09) and top finishers Arden Ziert (16th-18:19) and Alex Norman (19th-18:26) enabled the Hatchets to take the team title. Other Hatchet finishers were: Jack Lacina (27th-18:55-PR), Keaton Jed (28th), Hunter Borchardt (33rd-19:01-PR), Hunter VanRyen (43rd), Matt Johnson (45th), Ethan Liebnitz (51st), Jacob Towle (53rd-20:17-PR), Brady Tjugum (54th), Reed Zedler (63rd), Taje Casey (76th), Henry Calhoun (85th), John Mark Hawley (98th), and Trey Miller (101st) in the 120 runner field. Varsity Team Scores: (Girls) Tomahawk-49, Auburndale-74, Gillett-95, WR Assumption-122,Colby/Abby-135, Prentice-182, Three Lakes-185, Athens-196, Stratford-202, Laona/Wabeno-216,Spencer-296, Thorp-357, Marshfield Columbus-358, Owen/Withee-Inc, Stanley/Boyd-Inc (Boys) Tomahawk-47, Gillett-71, Athens-80, Stratford-94, Auburndale-111, Prentice-138, Colby/Abby-204, Laona/Wabeno-220, Spencer-258, Thorp-277, Owen/Withee-306, Stanley/Boyd-342, WR Assumption-Inc, Marshfield Columbus-Inc, Three Lakes-Inc. Despite the soft and sloppy course conditions, the Co-Ed Hatchets were able to bring home 9 Career Best 5K efforts. Next race for Tomahawk is next Saturday as the Hatchets host their 43rd annual invite at Edgewater Country Club. Races get underway at 10 a.m.
+ Read More
Hatchet Girls Swimming Team Loses at Ladysmith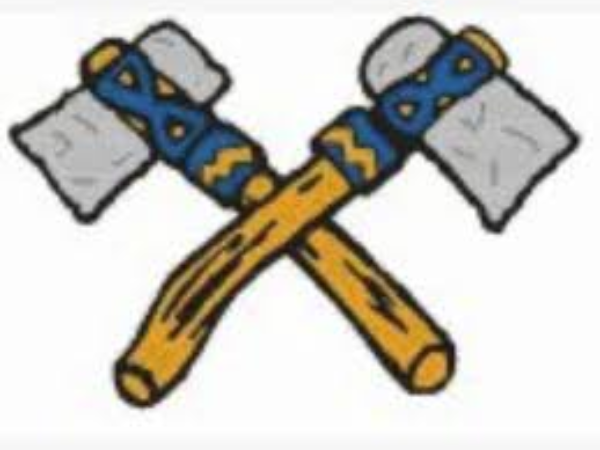 Published on 10/04/2019 under Sports On Thursday night, the Hatchet Girls Swimming Team was at Ladysmith for a Great Northern Conference Dual and the Hatchets lost by two points, 91-89. Tomahawk had first place finishes fro Kylee Theiler in the 50 and 100 freestyle and Megan Miles won the 100 backstroke. Tomahawk also had a first from Karlie Woodall in Diving and their 400 freestyle relay team also was first.
+ Read More
Jeff in the Morning and Zach with the News
5:00 until 10:00AM

Phil at Mid-Days on Monday & Tuesday
Tim at Mid-days on Wednesday - Friday

Michael Late Afternoons and Evenings

Morning Forum 9:35AM Monday - Friday